TL;DR: Warning: there is a lot of obscure music and speed cube talk at the start and end of this entry.
TL;DR, pt. 2: One day we were taking the bus to the library to get Garfield books, the next we're working from home, then schools are closed, then we're sheltering in place for a long time, I start buying hand soaps as a coping mechanism, I turn 47, realize I needed more glossy, waterproof ink for my compulsive letter writing and then more watercolor cards, and finally more speed cubes.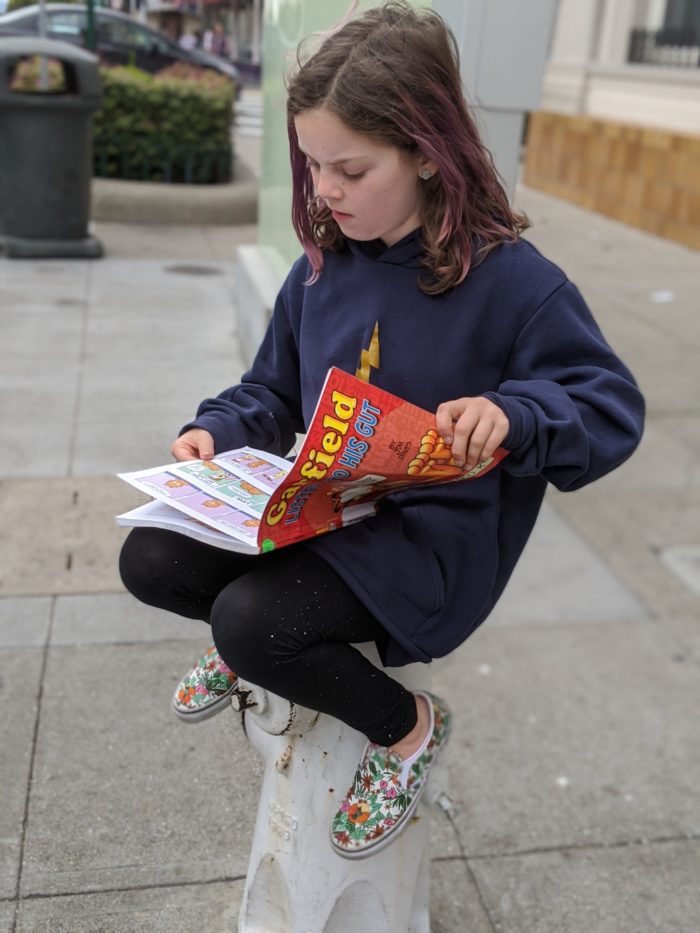 I should start by letting you know that in the pre-pandemic days of January and February 2020, I became obsessed with the band Floral: the guitarist plays in one weird tuning and sometimes it sounds like the drummer is playing the same thing as the guitarist: but there are a lot of times when they are the only thing I want to listen to. They even got me through a day in January when I made a mistake at work and brought some unpleasantness down upon myself.
What would a band with Michael Cera and Pete Davidson look like?

In "Picture of Flower", I really hear some Derek Bailey tone and phrasings.
For all the love I have for them, their abrasive and chaotic songs could not sustain me forever, but that's how we get to Piglet: a band from 2004 that has a tiny output. I have listened to Lava Land multiple times a day, every day. And watched their now classic live set, much to Zoe's irritation, just as much. I'll most likely remember Piglet as the soundtrack of this quarantine, like how Talk Talk's The Party's Over was when I had chickenpox.

"It's Mickey's birthday and I'm nervous."
People I've met that also like Piglet and Floral: 0.
Holy shit, Lava Land is a legendary, classic, masterpiece of an album (in my house): it starts super-charged, keeps being inventive, is both rocking and a little sad, then mellows out and ends. Not unlike life itself. Listen to how the drummer really makes the song by hitting the bell on the ride cymbal. I can't stress how much my soul lights up every time he does this. I hope that's what death sounds like, when it eventually arrives for me: unexpected, beautiful, making everything worth it, but also soothing and calming. Thanks for everything, Piglet! We'll always have the majority of 2020!
March
On the Wednesday before schools closed, I saw a squirrel standing really still.

Zoe turned 10 and there was a small party where five little people sang karaoke and ate cake. Oh, how innocent we were in March 2020: you wouldn't even think about blowing a candle out in a room with other people in it now.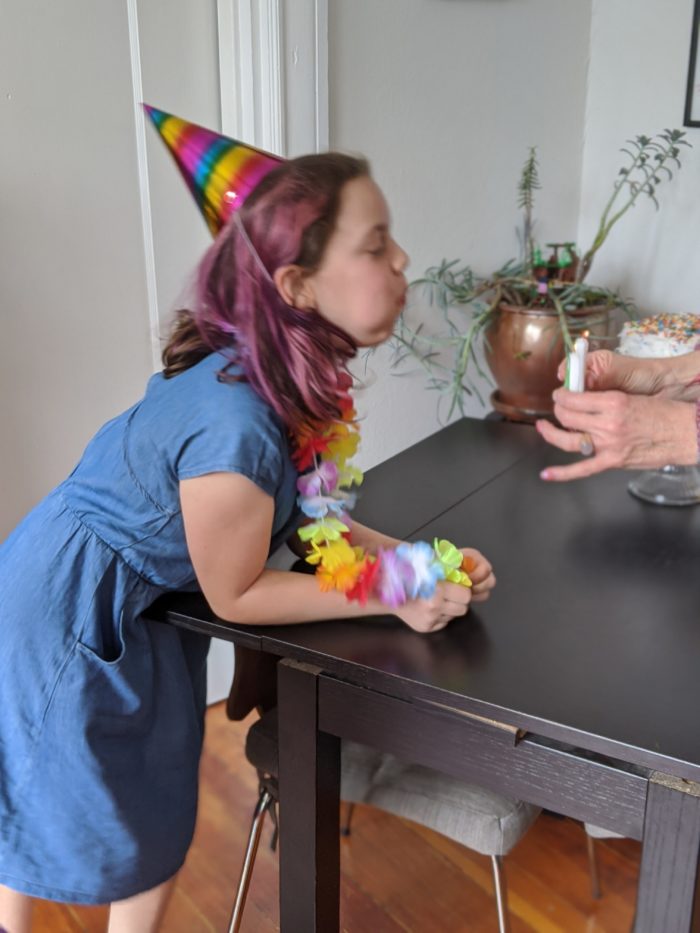 A cool cake Nicole made.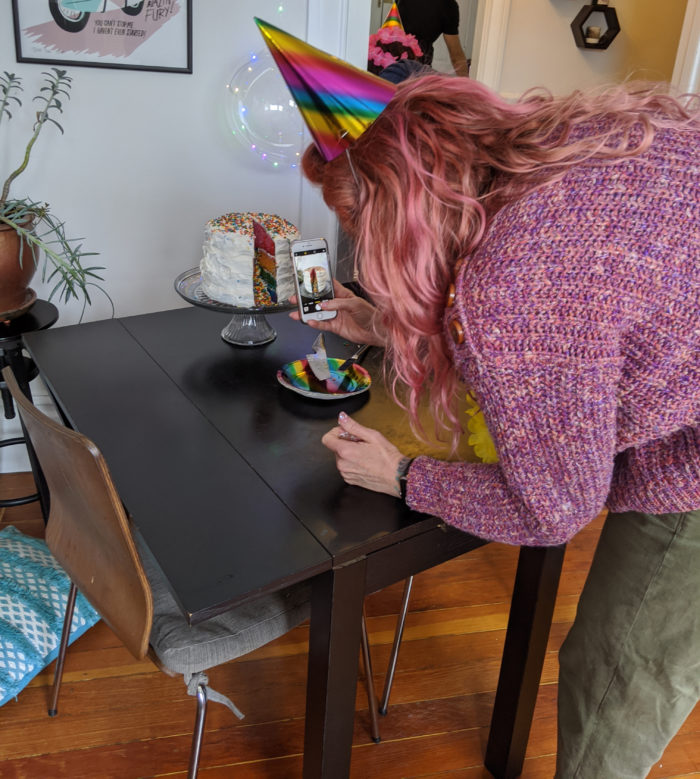 Friends: that cake made me have a green stool the next day, and I was worried, to the point of doing some internet research, but then realized what I had consumed the day previous (i.e. a cake made up of various food colored layers).
We went out for sushi the next weekend, which was the official last time you could dine out in the state of California (before this rule was lifted some months later), so we celebrated with a Sprite.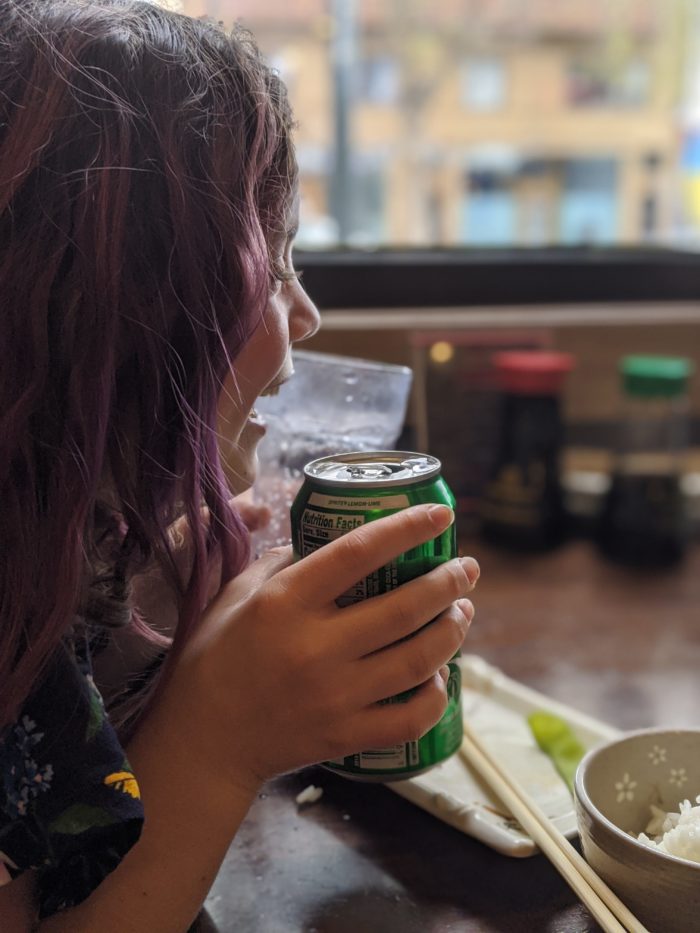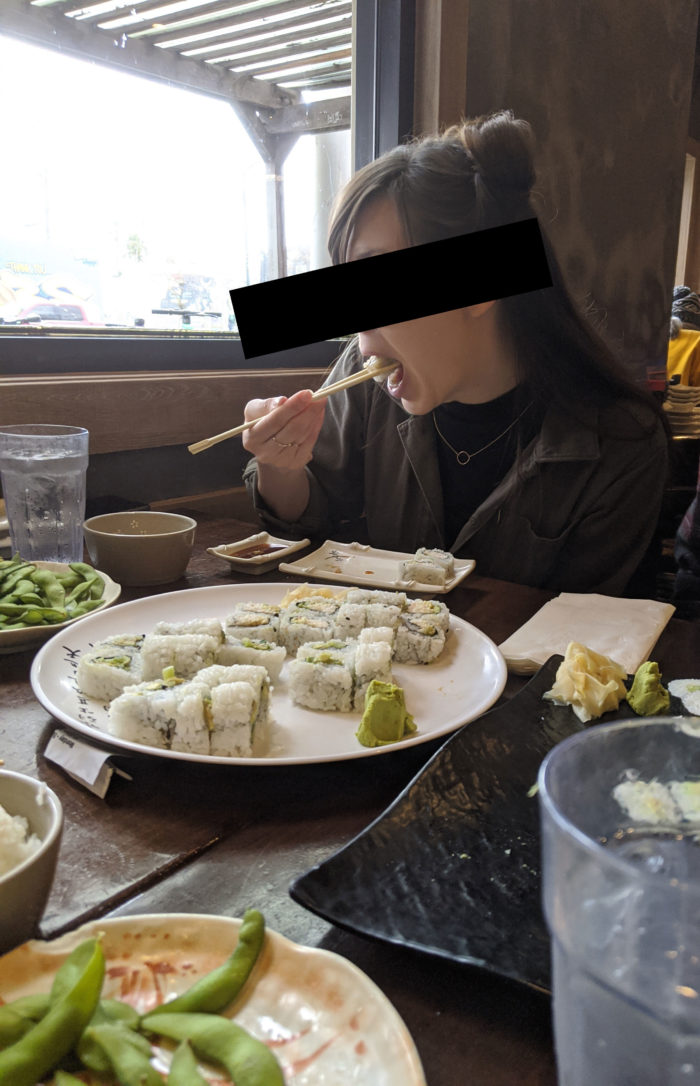 Ambrosia's ice cream cake was so good and so sweet of her to make Zoe, that I'm not even going to be embarrassed by how encrusted with craft paint my coffee table has become over the years.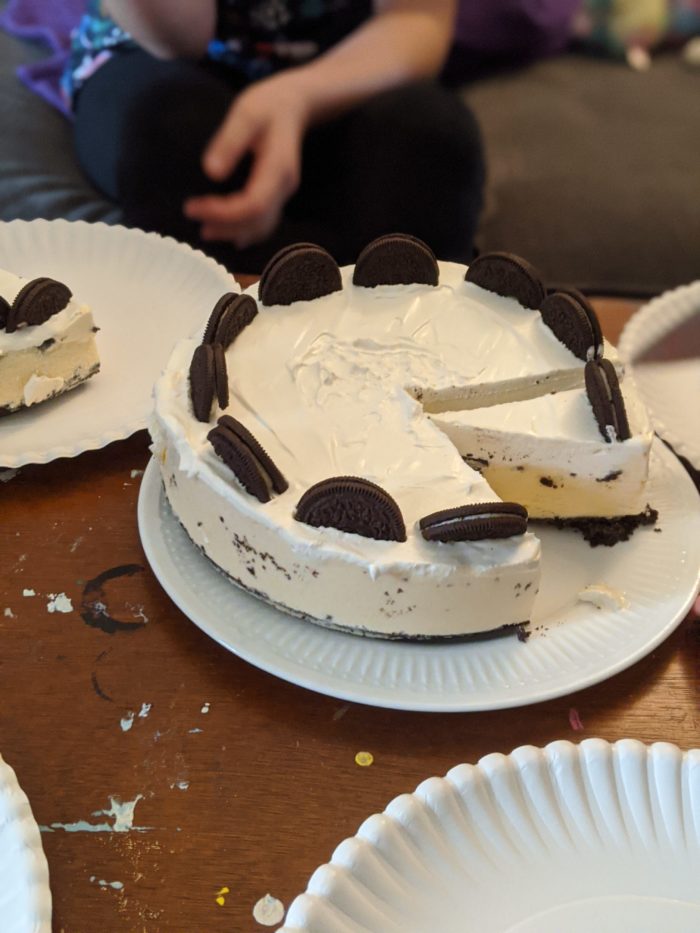 Then we went out for birthday cocktails.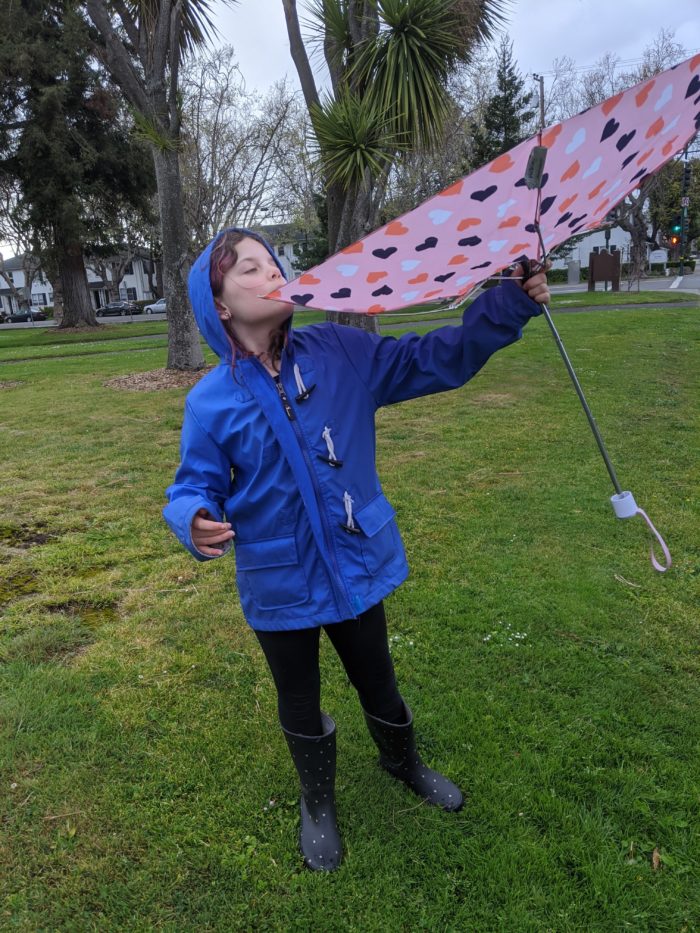 A bike path opened up that allows us to ride a straight line down some of the island.

April
Groceries are scarce. I greatly miscalculated the amount of beans we could eat and actually enjoy.

During the day, there isn't a lot to get done. I work, Zoe does school stuff. We eat lunch together. We go for walks. A lot of walks. Zoe scoots around sometimes, and sometimes I pull her on the scooter, which is sort of my main workout.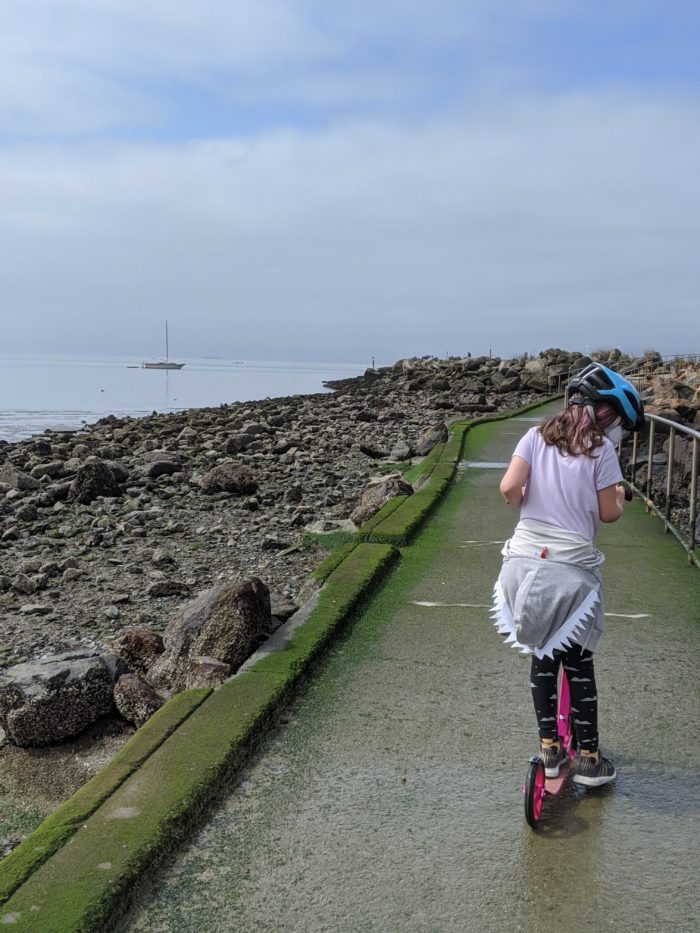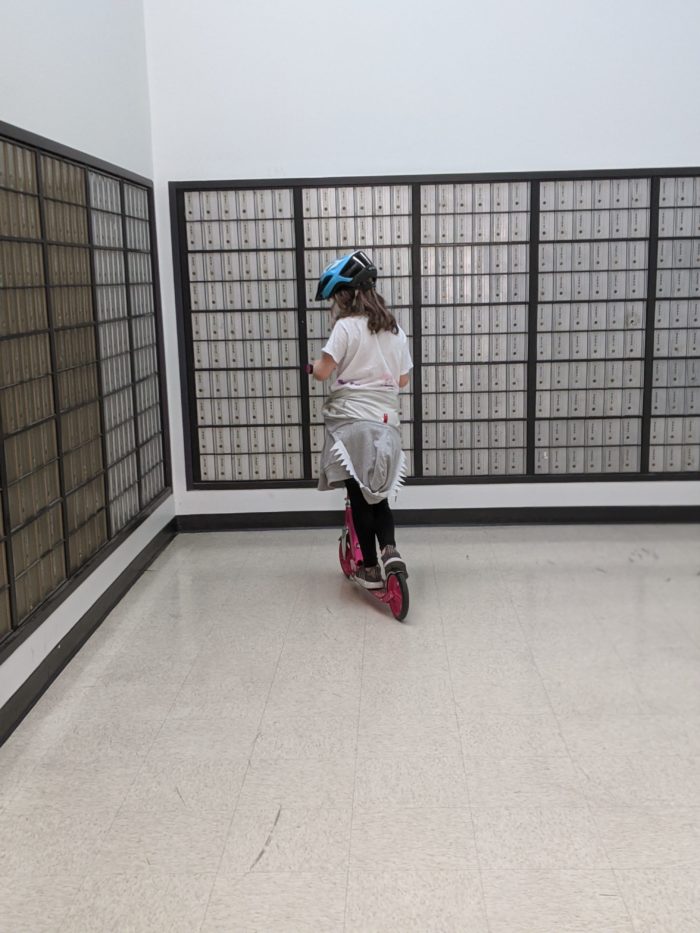 Oh, the lovely and home away from home post office. Our main destination spot.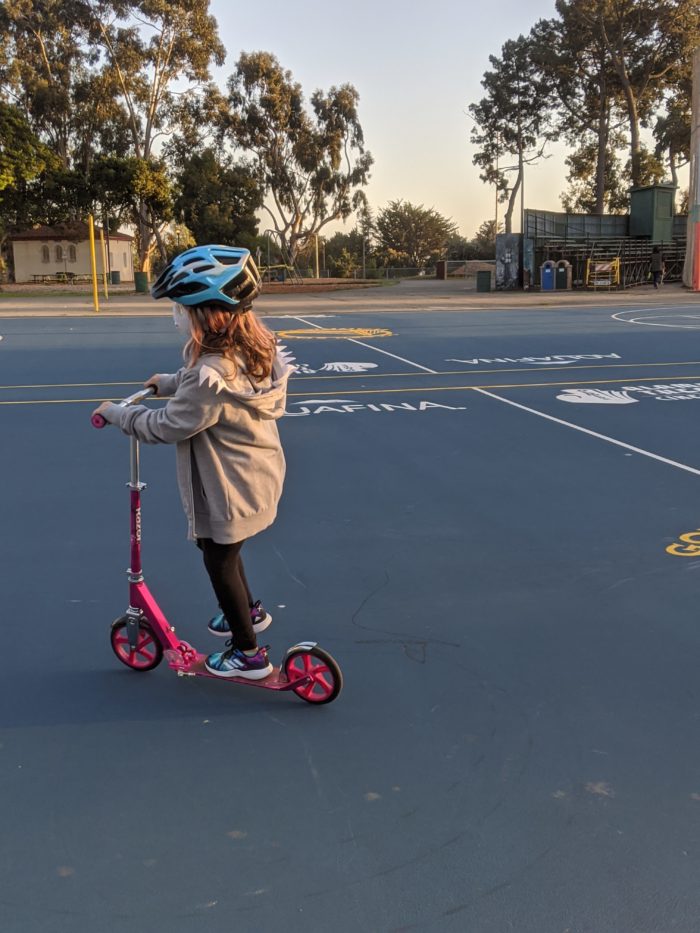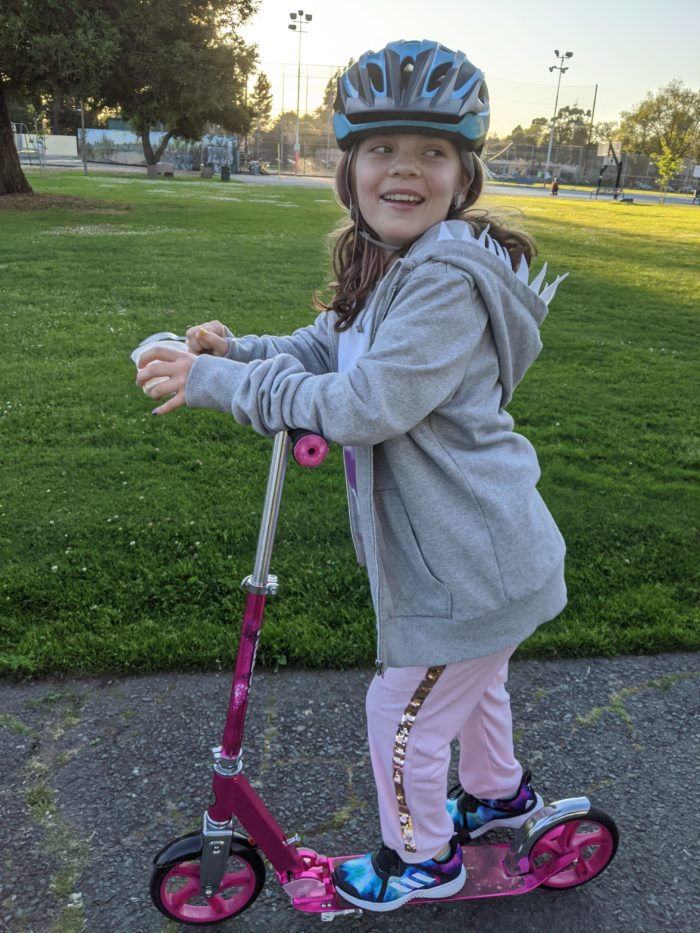 We got on board with the stained glass chalk craze.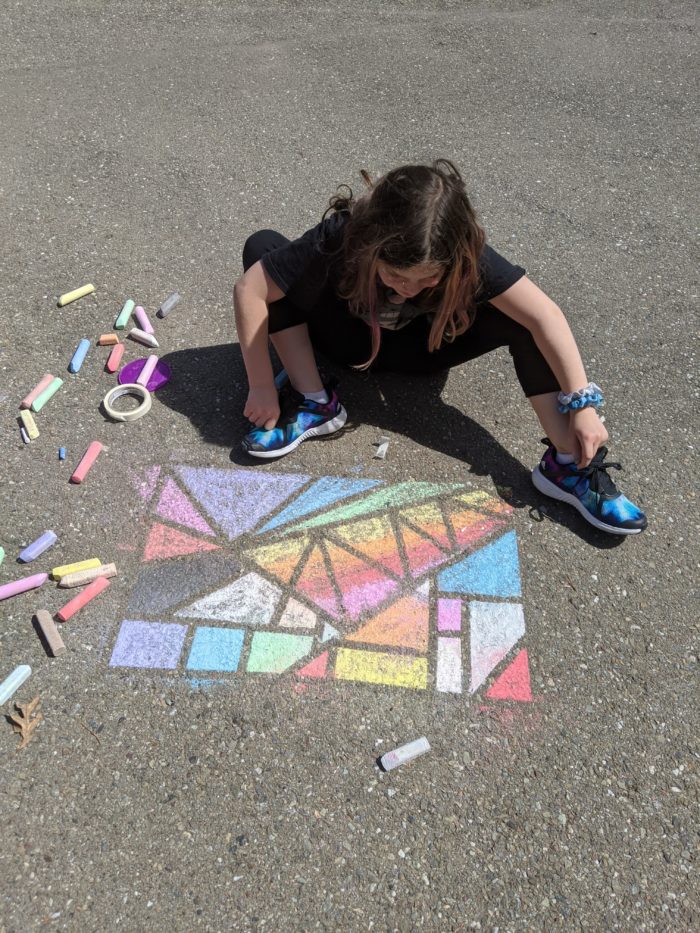 We even saw my buddy Olive and Ambrosia.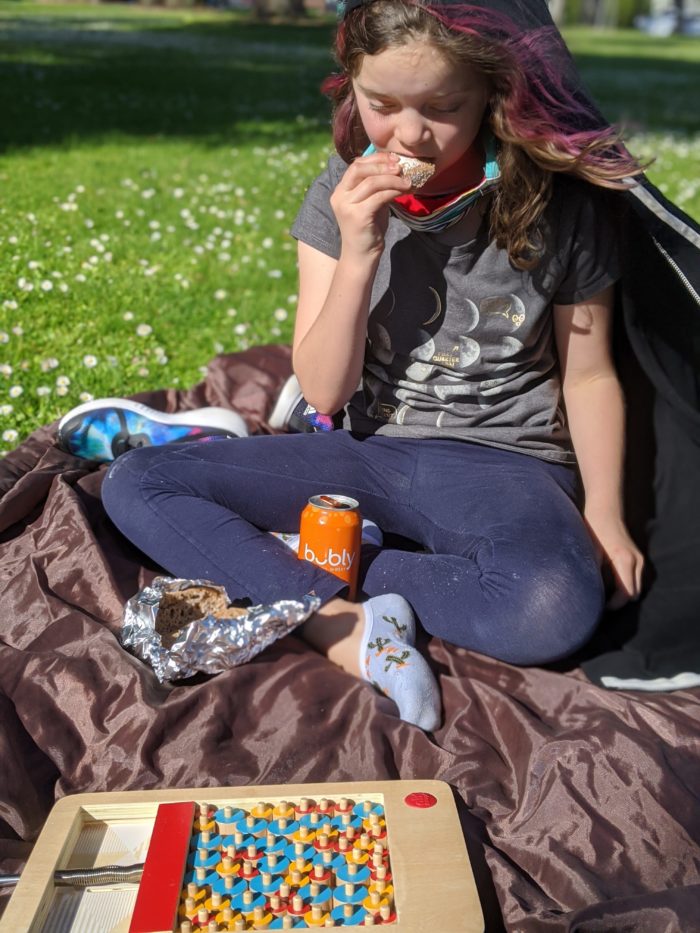 A picnic in the park with Oh Snap!
I've spent a LOT of time with Zoe, and it's pretty great and probably the high point in all of this. There are times when I have to get work done and she obviously wants to hang out, and I think pretty much every parent who is working from home is going through that. People at my work seem to be extra understanding, so it's a really nice time to have a job at a company where everyone is going a little insane with the parenting/work balance. I don't like to say "blessed" too much, but I really feel that way because I can afford to feed us and allow us to be safe and buy things like board games. Also blessed to have coworkers that I talk to every day who keep me on the sanity track.
Things/Phases I've been doing/going through since March:
Tried to find different ways to make a large pot of beans taste delicious. After a few months, I realized that beans taste better when they are mashed up.
Found out that women give each other hand cream as small presents throughout the year. This was quad-confirmed, and was startling news to me. Is it your experience that this is true?
Learned how to play Mancala the correct way, which Zoe does not care for, and instead prefers her absurd way of playing which she claims she was taught at after-care.
Got into Kingdomino.
Started using watercolor cards after using all the ones from Kelley's Christmas present. Sent out something like 4,000 letters. Some people wrote back, some said thanks and left it at that, some never mentioned them…like I'M the crazy person.
Got really into buying ink from Jet Pens, and then Goulet Pens, since you can order ink samples (which were another thing I couldn't stop talking about. Why buy a whole bottle before you take an ink for a test drive????!!)
Got really into the Zebra Sarasa pen.
Started using Vanicream as my night time moisturizer. My dermo recommended it, but man, without fillers or perfumes, it is ALL business.
The library closed, but I can check books out onto my Kindle, which is probably how I spend 30% of my time, and 80% of my evening, cozy time.
Zoe went through a flipbook animation phase.
Watched a lot of Vat19 videos. Because the channel's content are ads for the things they sell, we eventually bought Oh Snap! and Taco Cat Goat Cheese Pizza. I'm lucky Zoe still wants to play games with me.
Zoe goes through a domino phase.
We go through a Ticket To Ride board game phase.
Made Romesco sauce for the first time in my life. It is unbelievably good. On everything.
Found these books on Amazon to read for free: Witches of Palmetto Point. And they aren't very good: the dialogue is clipped and unnatural, and the stories are, well sometimes I read but stop paying attention to the less interesting subplot, but oh man, did I look forward to reading these books every night. I can not wait for the 11th book to come out in October November, because I have so many questions about Charlie becoming a (spoiler alert) Reaper, what will happen to her and Tom, and what is next for Evan.
Zoe goes through a stop motion animation phase.
We go through a Patchwork board game phase. It is so lovely and relaxing.
Do you use the same nail clippers on your hands and feet? I guess you're not supposed to do that, and I had been for years, so I got dedicated toenail clippers.
Finding lemons cheerful phase.
Get really into having a basil plant in the house.
Go through an overnight oats phase.
I'm getting better at making curry.
Using cashews more in cooking, highlighted in my vegan Cacio e Pepe.
Unable to keep a basil plant alive.
My buddy Will let me "borrow" his Moka pot, and I get very into it and James Hoffmann videos.
Got really into the Netflix original Sweet Magnolias. It's about women finding out who they are, and how strong they can be!
Joined the Oakland library, and their website is one of the best I've used to reserve books.
Pants start to feel not so roomy anymore.
Rewatching New Girl to feel less lonely.
Aunt Melissa sends lots of jigsaw puzzles.
Start doing puzzles while watching New Girl. Made a spreadsheet of every joke I like.
Get into using vinegar and water in a spray pump to clean.
Started buying Verve coffee. Started making the James Hoffmann iced coffee.
Zoe's camp starts. She has a good time every day and runs around and plays games. It is a calculated risk to send her, but it looks like everyone is being safe.
I feel a little sorry for myself and start reorganizing the kitchen. Then I replaced depressing, dark curtains with sheer curtains and they improved the quality of my life quite a bit. Bought some low-light plants for my desk and kitchen and bedroom.
Got into CB2's affordable but stylish dinnerware, kitchenware, and glasses.
Subscribed to Disney+ so we could watch Hamilton.
Started watching a lot of "Rig Rundowns" on YouTube.
Made a decent tofu katsu curry.
Went to Trader Joe's for the first time in months. The usual wait isn't too bad to get in.
We go through an Uno phase.
We listen to a LOT of the Hamilton soundtrack, or at least the same 5 songs and a LOT of Charlie Puth.
Sushi Go makes a comeback at home after a dismal introduction. Playing it at camp have reinvigorated Zoe's interest.
Watched Community. Did not care for it. Started Schitt's Creek. Did not care for it at first but ended up loving it and how it had a heart. It was just what I needed to watch. I thought it was going to be just a snobby family who has to live with common folk, and comedy would ensue, but it was so lovely to see a family grow closer, and change for the better. I also like when David and Alexis talk about their day in bed at night. I also like any episode where David is dancing in slow motion and smiling.
Feeling a little down: we watch a lot of music theory YouTube videos, and videos like "A Guide To APHEX TWIN".
A lot of good talks with Zoe about what Black Lives Matter means, what is going on in our country, and what we can do as adults and children.
Such a weird time to be a 10 year old, but I think she's processing everything in a healthy way.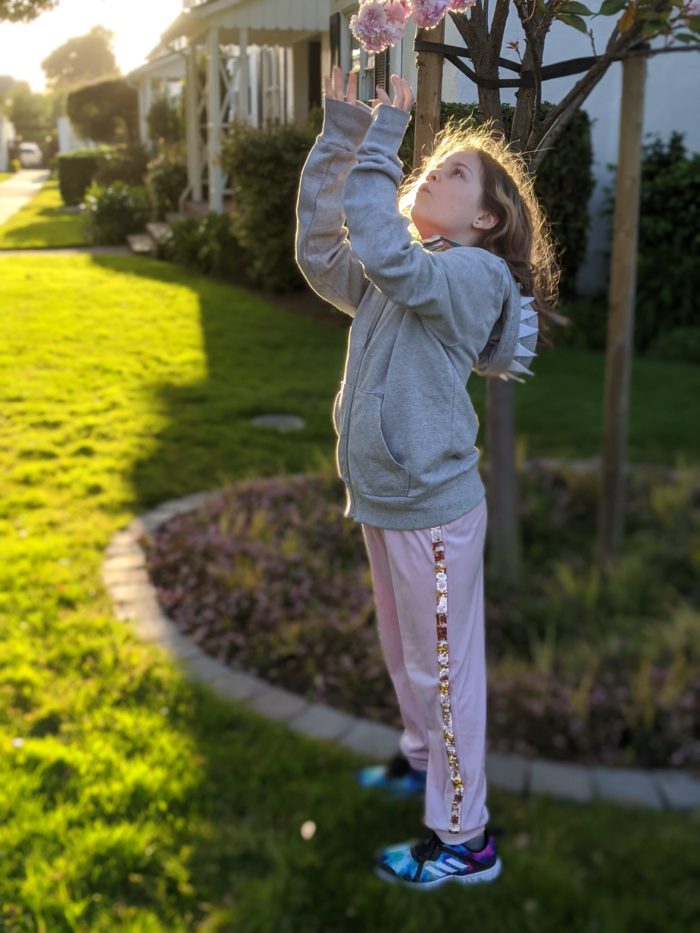 Pandemic Golden Hour in April
May

Zoe's green screen, stop motion phase.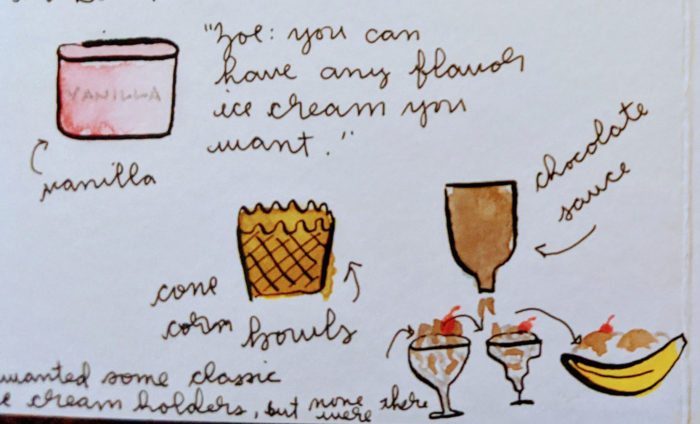 Maybe you were lucky enough to get a letter from me? They were one of the few things that allowed me to retain my sanity. If you'd like to join my mailing list, send me your address.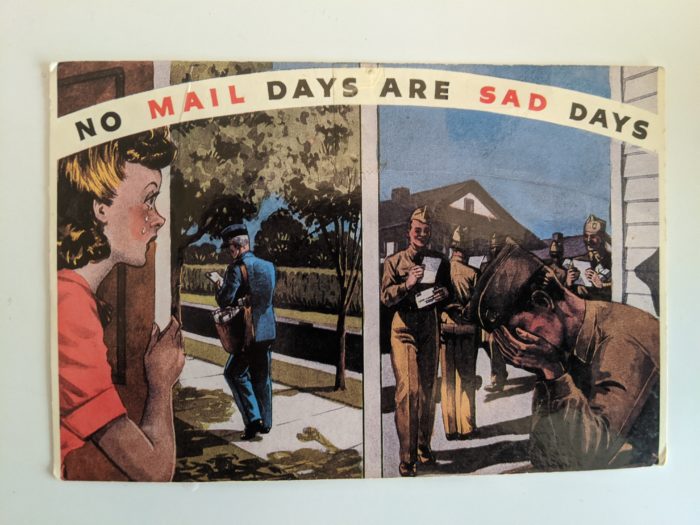 This is how I felt most days.
June

Zoe had been coveting these stickers at the burrito shop for some time. In early June, we remembered to bring our quarters.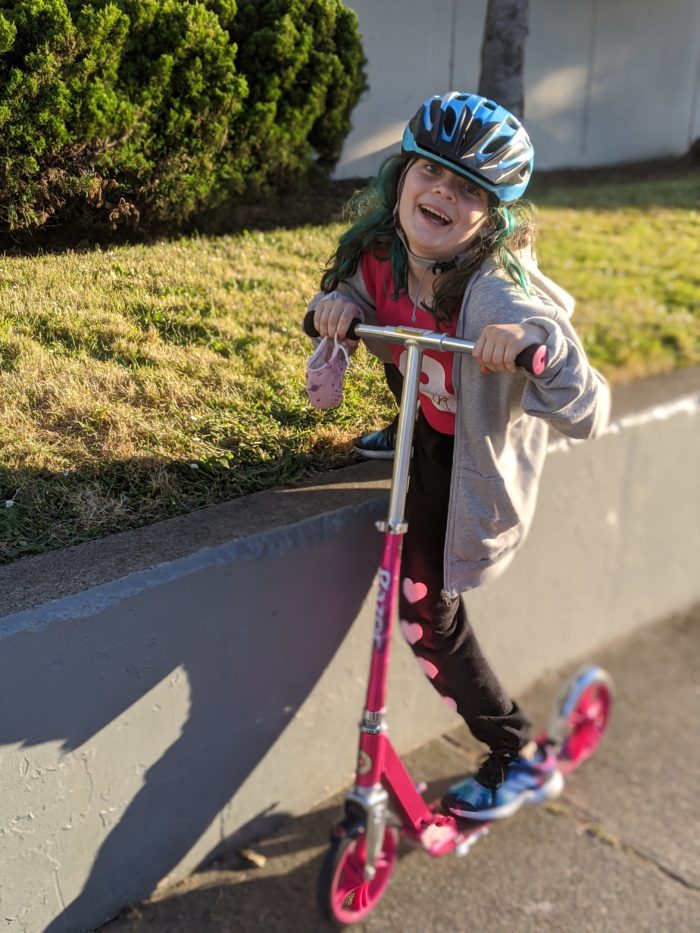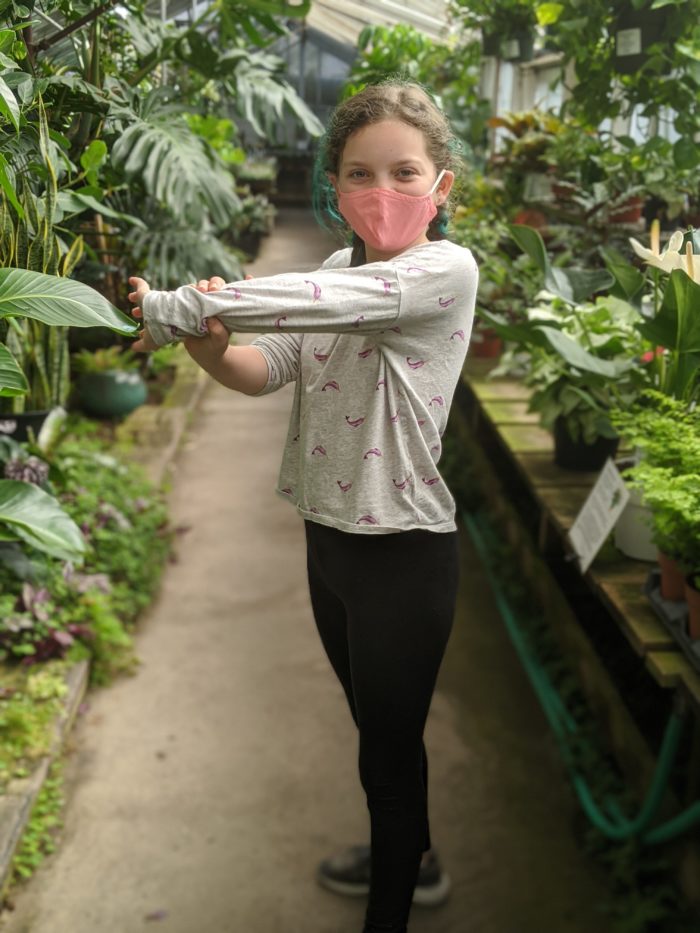 We bought a string of pearls and it hangs in a macrame holder and it is growing beautifully. Five months later, and it is the plant I like saying hello to every day the most.


The beach in June.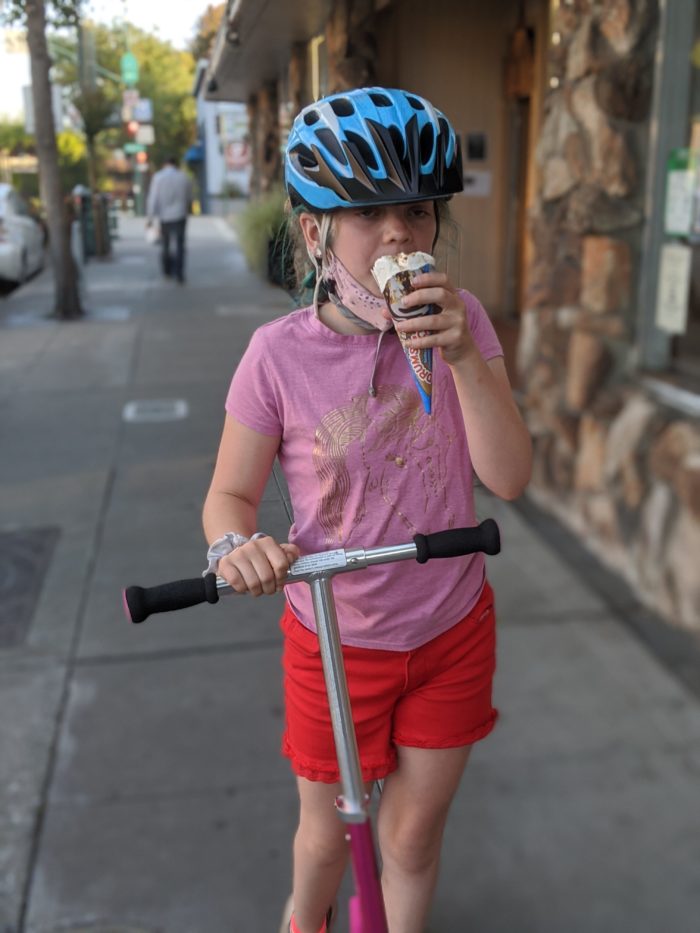 The Drumstick became the treat of the summer. But not the Kit Kat ones. Zoe did not care for those. I think that's why they were on clearance at Walgreens.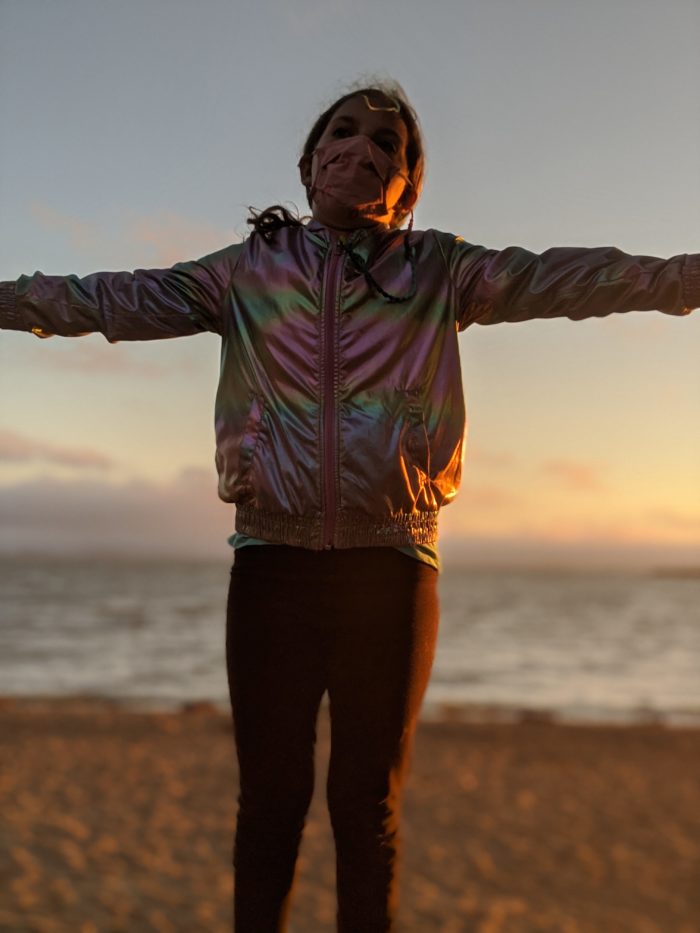 The windy beach at sunset.
August

Mini golf is great now: you make a tee time, and there is nobody behind you or in front of you, and it feels like you've rented out the entire place, except there is a small family 7 holes ahead. Then we got sushi to go. This was taken before the smoke from the wildfires was so bad it was just better to stay inside. Then there was that day when everything was dark orange and felt like it was a mixture of living on Mars and in a Scooby Doo background drawing.
September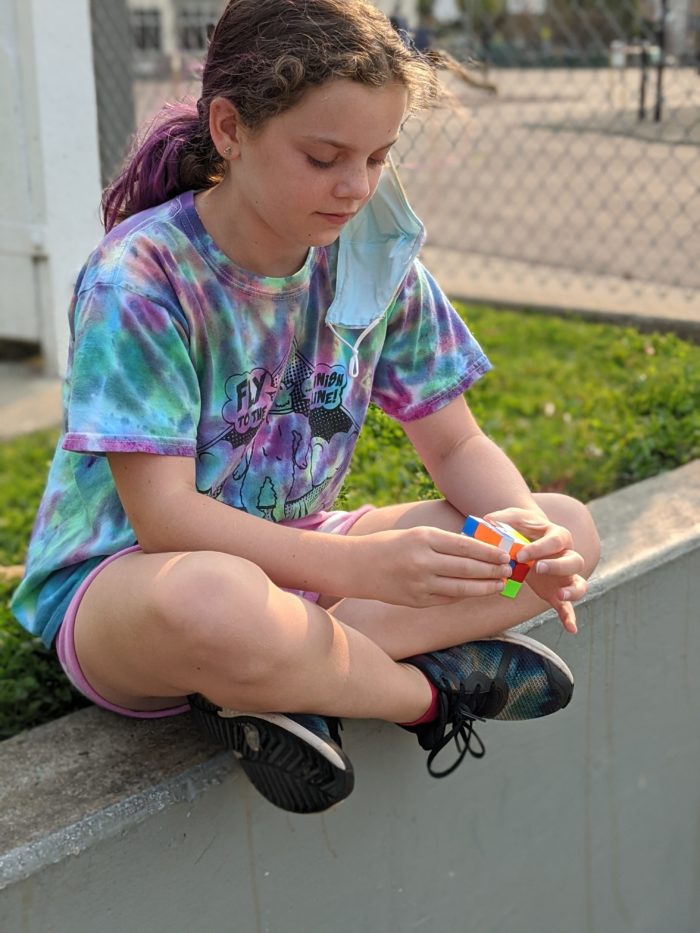 Zoe rocking the Valk 3 Mini on school grounds.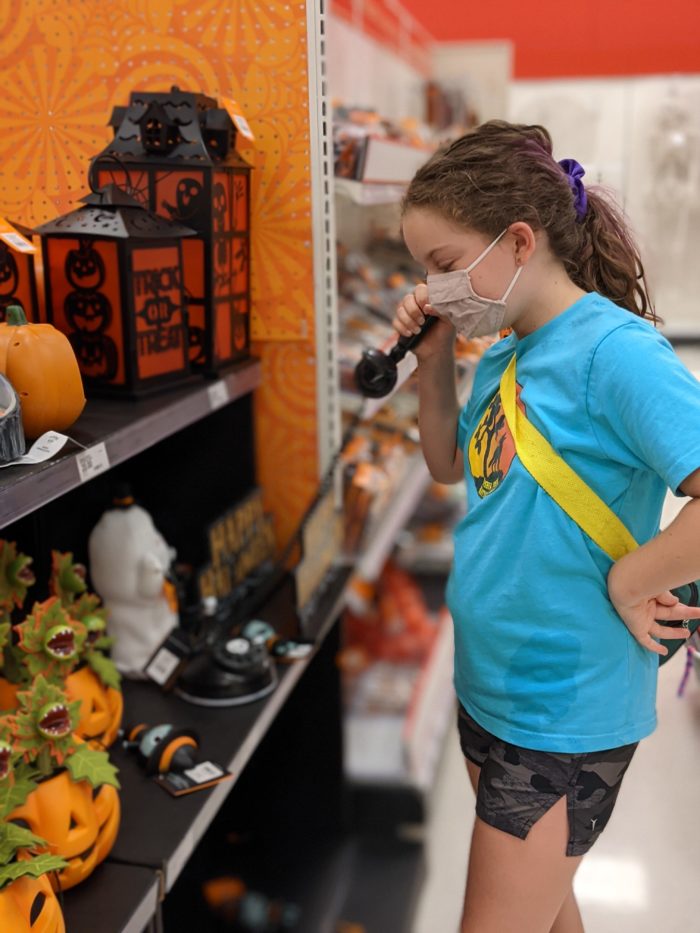 Spooky season at Target isn't quite the same, because it is unnerving when someone gets close to you, and all of shopping has become a chore.

We've been listening to this sign.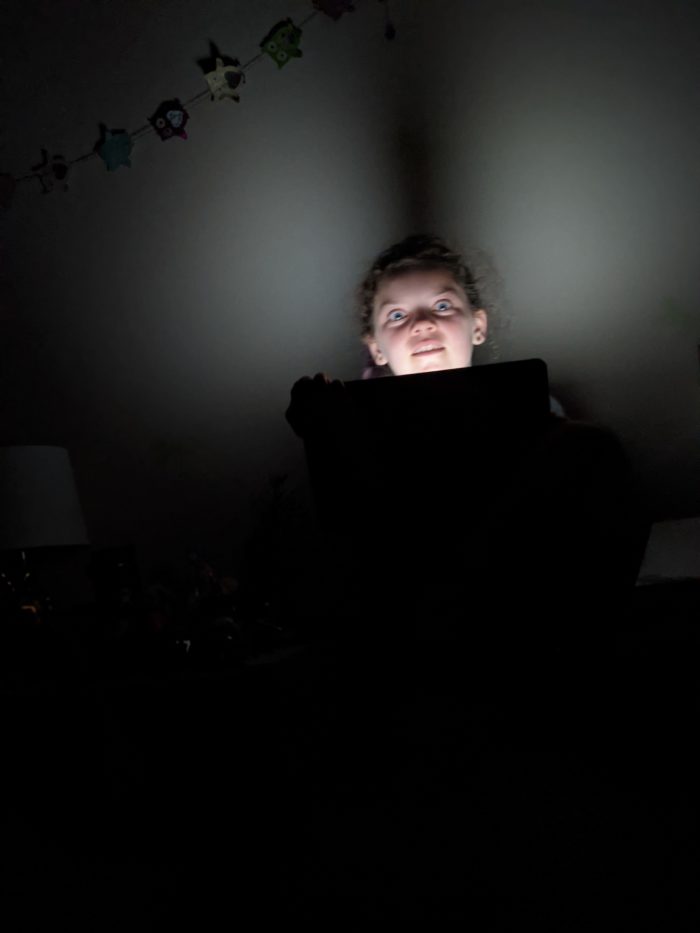 Zoe got a Chromebook Go for all her schoolwork, upgrading from the old Macbook Air whose fan was always on. The Go looks to be a sleek, easy to use laptop. I think every laptop is easy to use when you aren't running Docker.
We bought Rubik's Race, which is a sliding tile game and I'm pretty good at, much to the frustration of Zoe.
I finally realized I can open the windows in my apartment, which I never did in the years I've lived here. Sometimes a light breeze joins me during the day and keeps me company until early evening.
Started reading a (not very good but very free) cozy mystery series on Amazon about a woman who, through her powerful faith and a few good friends, tries to find the right thing to do as she runs a halfway home for released female prisoners in a rural town.
I bought Zoe a Pyraminx which she seemed into at first and I hope she keeps at it.
October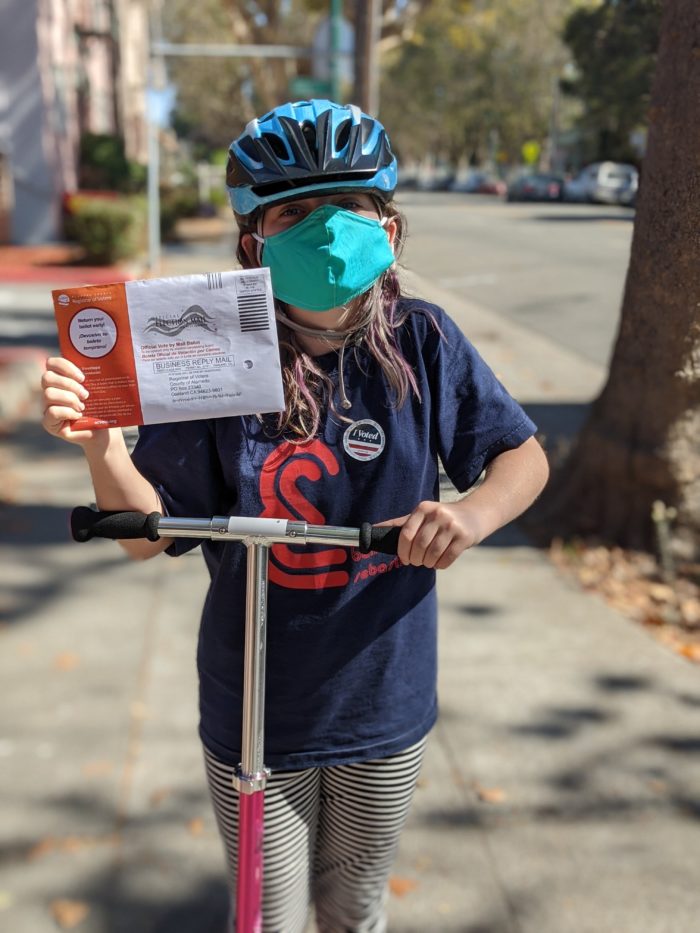 Oh, how I voted. I can't take another four years of insanity, anti-science, and moving backwards. Also, the privilege I have to write a long entry about the mundane stuff I do throughout the months and the stuff I'm able to buy isn't lost on me. Besides donating money and trying to educate myself, I feel a little helpless with the state of the country, and try to pour everything I can into raising a thoughtful, empathetic daughter.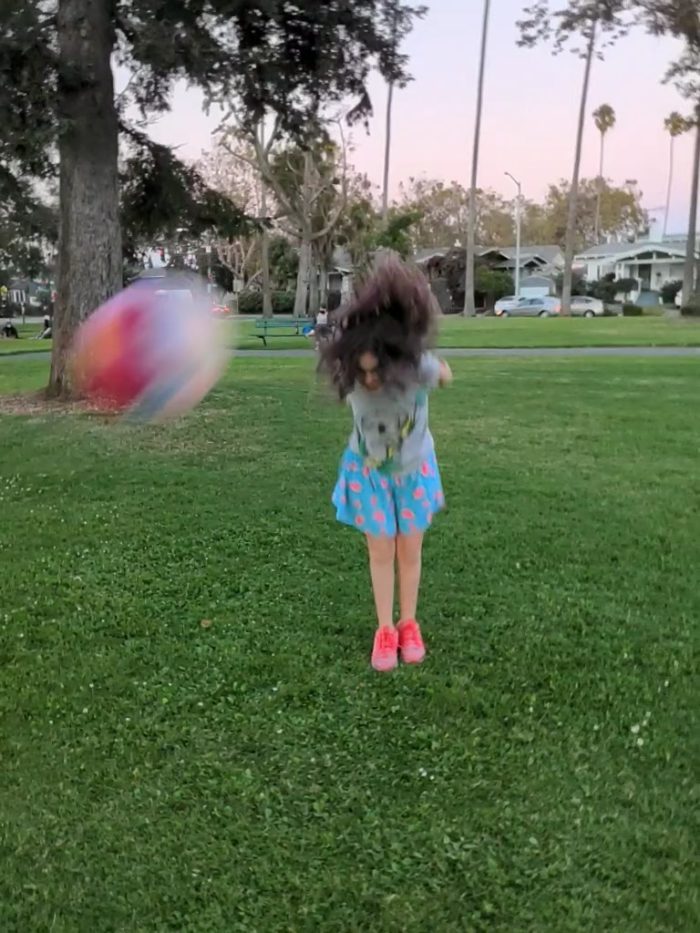 We play this game that is kind of like volleyball, but is mostly me throwing the ball at Zoe so she can head butt it back.

The light was really good on our morning walk. Zoe soon got an Oreo donut after this photo was taken.
I was doing so many puzzles that Aunt Melissa sent while listening to KQED and the Amy Coney Barrett hearing, and I think I threw my back out, or since I'm not sure what that really means, one part of my lower back really hurt after bending over the coffee table. I had to buy a heating pad.
Zoe and I get into diamond painting, which is sort of like cross-stitch, but you do it with little plastic gems.
Finally got around to putting on new windshield wipers, or rather trying to do it myself because it looked really easy, but then had to bring my car back and the guy at the auto parts store did it in 3 seconds.
We bought Poetry for Neanderthals after seeing it on Vat19. It is pretty fun to play and comes with a giant, inflatable club that you hit your opponent with when they use a word with more than one syllable.
Started watching those "A Real Lawyer Reacts To…" videos.
Watched Hereditary at 9am on Halloween morning. That is a very unspooky time to watch a movie. It set down a lot of scary elements, but didn't completely deliver on it. Was it a comment on postpartum depression? The American educational system? Grief?
Bought new bar soap to cheer myself up.
November

We had a fish tank a few years ago, but things didn't work out with it. We're trying it again.
I think I dropped a pant size. I was able to find some pants that were already tailored to my very short inseam, and was delighted to get rid of my very dirty, very worn Dickies. I think they were past the point of donation.
Cubing
My obvious latest coping mechanism
Please skip this section if you are tired of hearing me talk about cubing.
My speed cube progression is going slowly, despite practicing a lot. I wasn't doing it much with any seriousness when quarantine started, and I bought a GAN 356i in July because it looked really cool. It connects to an app on my phone, the "has a lot of potential but is pretty bad" Cube Station. The stats it shows really alerted me to how much time I fumble in my cross and F2L. I also took this opportunity to learn two look OLL and PLL. OLL was fun, had only 8 algs, and made me feel more confident. PLL is insane because there are so many algs and the situations when you use them all look the same. So, as of November 2020, I am not very good at the PLL algs. I wish I had a promo code for you to use on speedcubeshop.com to save 5% off, but I also don't have a YouTube channel where I do challenges like "Can I solve a cube in less than 42 seconds?" (Answer: yes, but not consistently.) If I can get my cross and F2L done quicker and more economical, it would go a long way to getting my move count down.
You: just how much cubing talk is there going to be???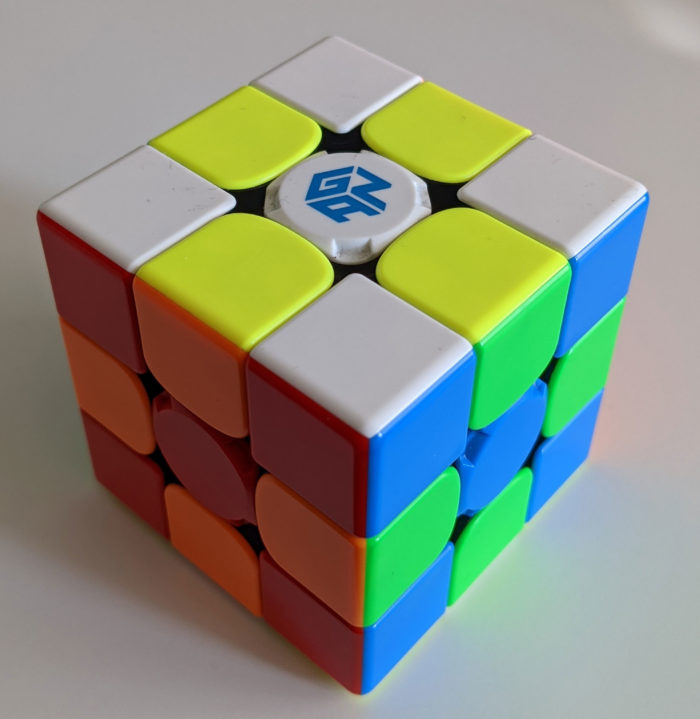 The 356i will tell you stuff like: it takes you 10 seconds to do a cross and each F2L pair takes you 12 seconds. So then you have to go back to the rudiments.
After wishing Cube Station had better software, I found out about Cubeast, which has a much better UI, but doesn't feel as slick, but could get there with some animation and graphic upgrades.
After that, I went all in on putting every one of my issues into cubing.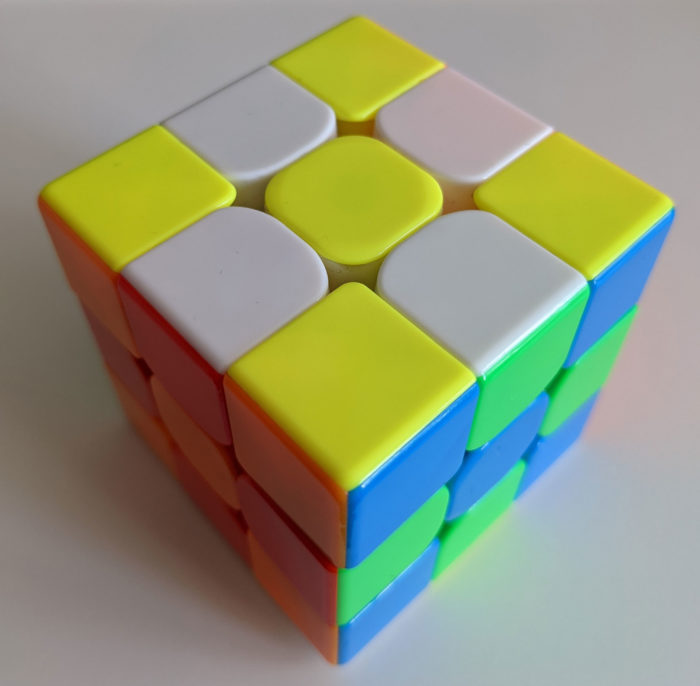 The Little Magic M is a budget cube that is fantastic and I bought one for Lee who wanted to give cubing a shot. It is so good for the price ($7.95). I might keep it in my car instead of the Valk 3 Mini. This cube is such a good value that I'm going to have a hard time buying another $60+ GAN cube. This cube doesn't come in a rainbow hologram box, but I keep all my cube boxes in a closet1, so I don't care what they look like at all. Cubing community: stop being impressed by a box. You're paying for it.
————
1. On my messy bookshelf.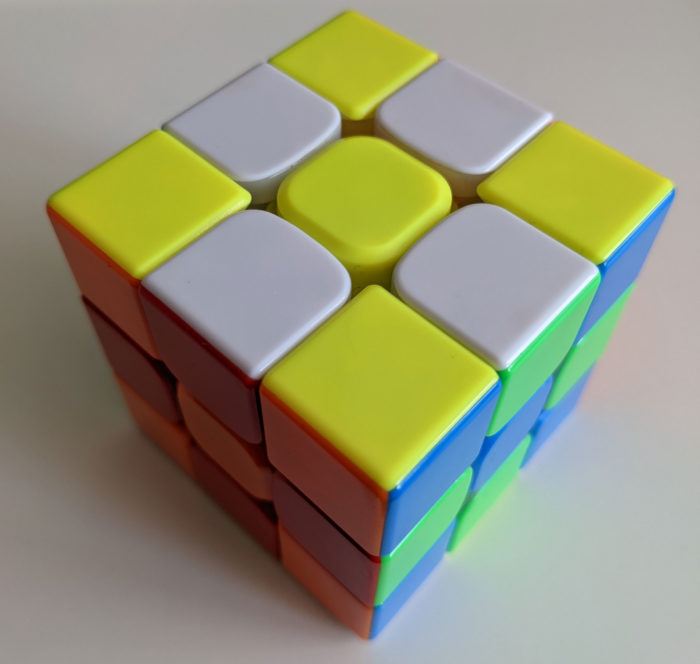 I also wanted a "quiet" cube, i.e. one that wouldn't bother Zoe when we watch Jessie together. I use the ability to chat with customer service at SpeedCubeShop to ask numerous questions and like to think, in my isolated, lonely state, that Alex, Cameron, Zachery and I are all best friends. At Alex's suggestion, I went with the DaYan TengYun Magnetic 3×3 V2. It has an assuringly heavy, and endearingly clunky feel that I find comforting and charming. It might be one of my favorites. It also has very fast, effortless turning and is as quiet as a piece of spinning plastic blocks can be. When I go back to an office, will this be the cube I bring?

MoYu WeiLong WR M 2020. I get a lot of puzzles confused. Part of me thought this was an update to the GTS3 which I had bought for a coworker more than a year ago, and liked it when I would bring it home for the weekend. This cube has a really pleasant soft, smooth feel.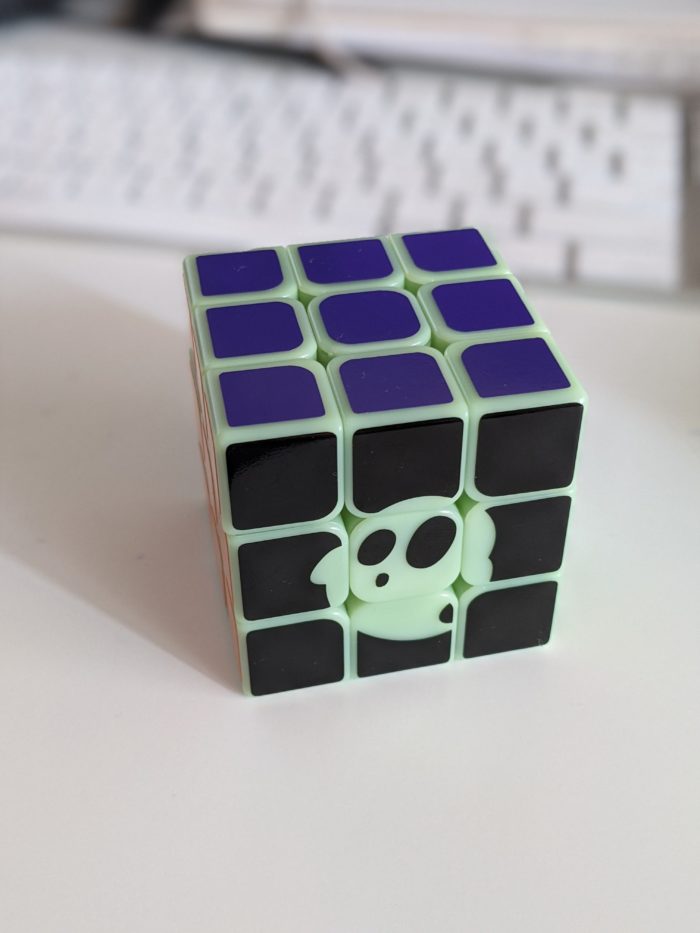 There was no way I wasn't going to get a glow in the dark ghost cube.

Supernova Valk 3 Elite Magnetic. I really wanted a stickered cube, since all of my cubes are stickerless, and the stickered cubes look nicer in videos. I also wanted bright stickers, because when I cube in the evening during Living Room Time, the lighting is often dim. Now I have a very crunchy Valk 3 Elite with full bright stickers.

I wanted to get the budget cube "everyone" is talking about with 10/10 reviews, the MoYu RS3 M 2020. I know this might make some of you a little sad, but I was pretty excited to get it. I think I like it better than the Little Magic M because it feels so similar to the WR M, but is a little heavier. It doesn't have the glossy feel of the Little Magic, which I think puts it a little bit ahead. I tried to cure the outrageous spring noise with some core lube which is dyed black for some reason, but after that mistake, I'll just wait for Vortex to come back in stock.
My general stats, as of early November 2020: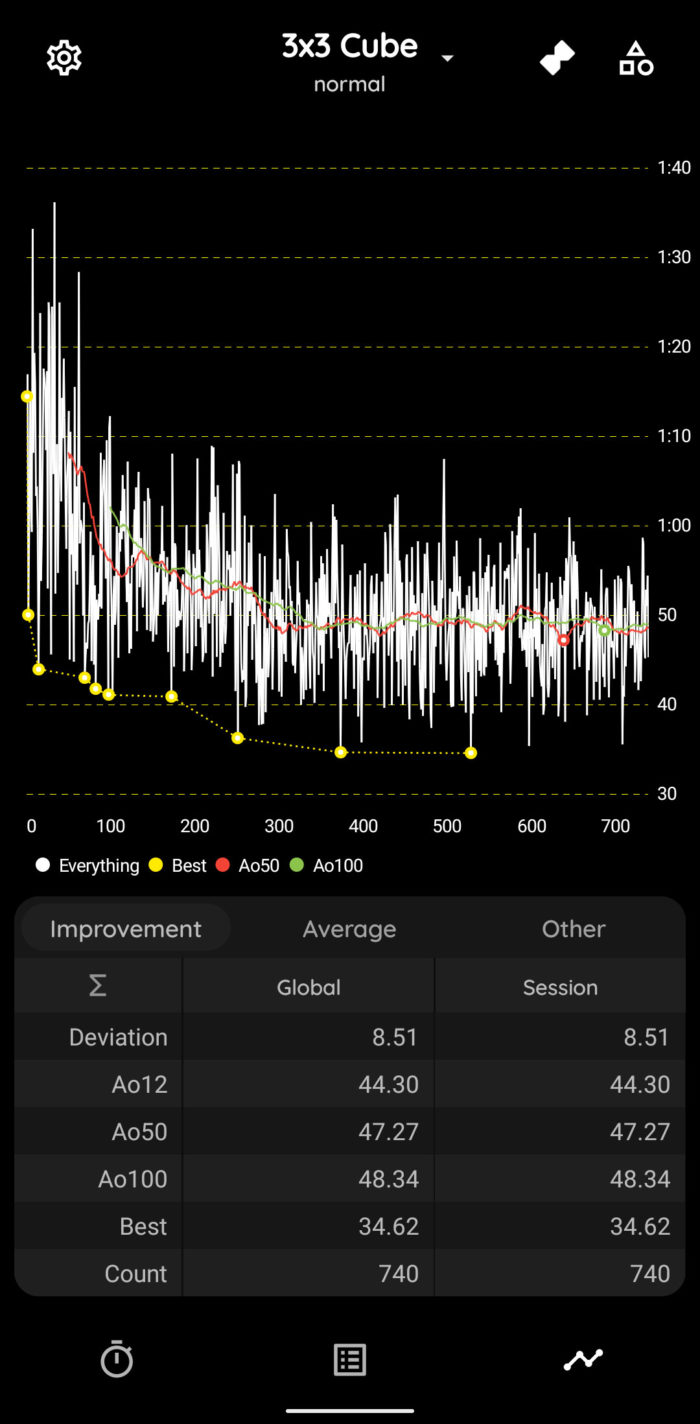 Every time a new cube arrives, I think about:
Feels bad man from r/Cubers