Oh wow. This one goes back to what seems like many lifetimes ago (it was six months). It's now early October, and I wanted to get this one out before we spun into 2016. I've been very lazy at this, and selecting and resizing and uploading all these photos feels like what I just spent eight hours doing at work and I'm sure that's what is preventing me from writing an inviting theme. But you and I are now officially caught up with Zoe stuff as I present: the Summer to September 2015 update.
Hey Ross.

When I last checked in with you it seemed like you were adjusting to living in your new apartment and working through some emotional issues regarding your divorce. You also bought a couch. I wanted to see if you were doing ok!
Dear Me.

You are so sweet to check in! (Ignores question. Posts 400 photos of Zoe.)
April
Zoe ate a burrito!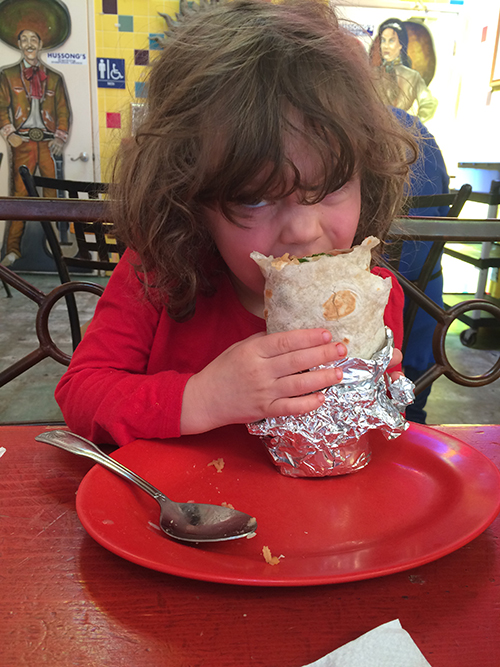 Zoe started showing an interest in "doing gum".

We bought a kite and brought it to the beach. About ten minutes after this photo was taken, I probably threw the kite away in a fit of rage after it got tangled around itself. Or it flew into a high tree branch and we had to leave it. Such are kites.

Zoe brought a play camera home from pre-school and worked on her selfie game in the frozen food section of Trader Joe's.

Some movie. Inside Out? Not sure. That's why we scrapbook now.

"Papa, I really want to take the bus today." It is nice having a low-maintenance child.
Here: sitting tough while waiting.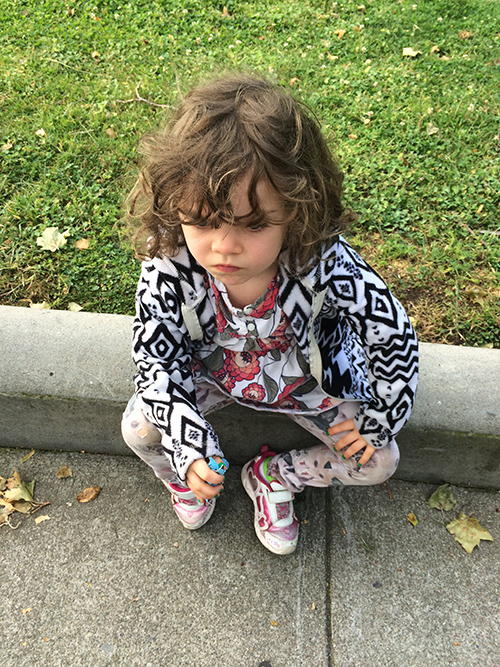 We like to ride the bus to the place where you paint stuff and then they cook it and a week later you pick it up.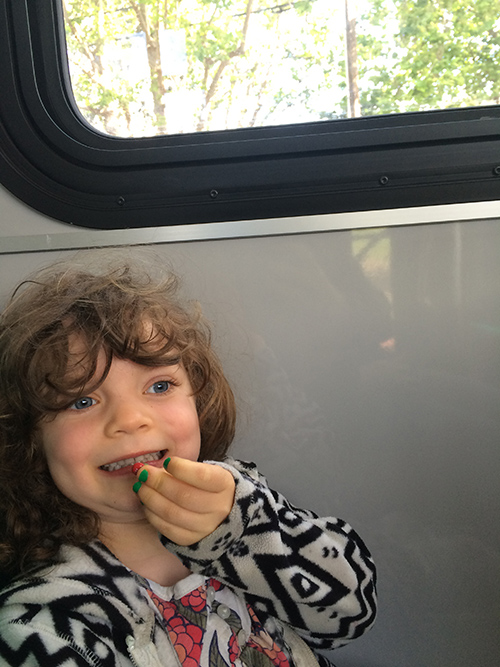 We woke up particularly early one Sunday and walked to breakfast, but stopped and smelled each flower along the way.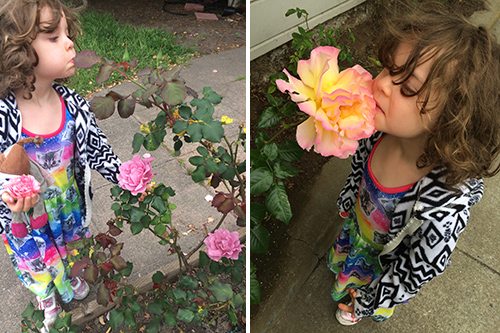 The next day, we had to do something very early involving the upcoming school year. We ate bagels after in celebration.

May 2015
It was hot. Zoe swam.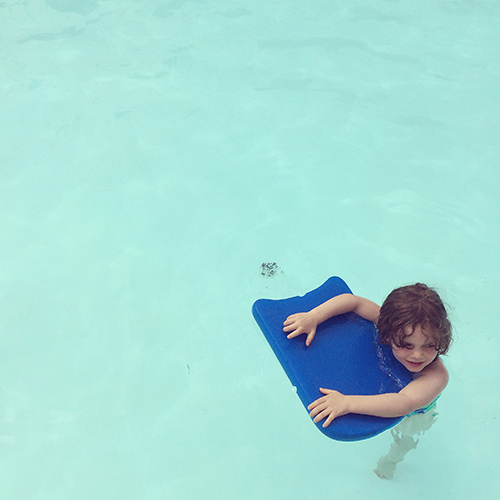 I love creative surprises like these. "Look papa. I made my own computer."

June
Zoe loves to collect flowers that have fallen to the ground. Sometimes I feel like I live inside one of my favorite books I Am a Bunny.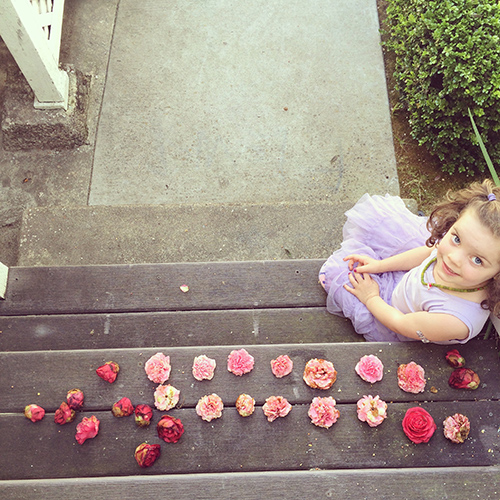 Before you are a parent, nobody tells you about the joy will receive while watching your kid, with an all-business face, trying to cut a slice of pizza.

"Can I get a special treat?" (i – iii)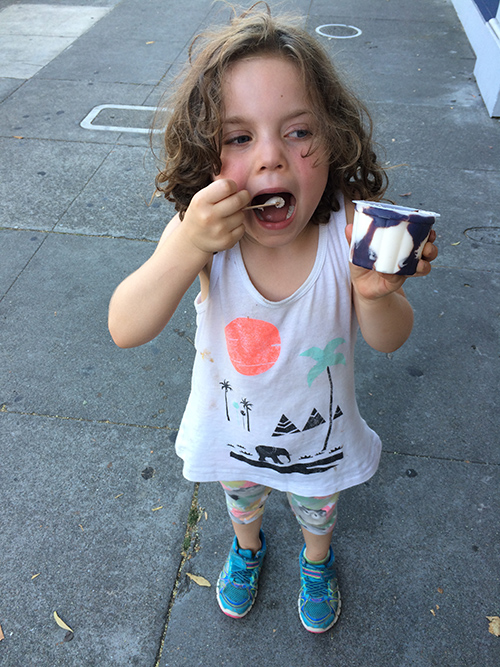 July
Yoga in the park.

1. Pay the entrance to Chabot Space Center 2. The cost of going to the "Lego Workshop" 3. Spend most of your time watching the turtles in the pond.

Since everybody on the 90 dating apps that I've used (minimal results. If you're trying to rebuild your self esteem and are sort of an unclassically handsome man, I can't encourage you to go the route of virtual dating) says that they like to go hiking, I thought I would try it with my friend Ambrosia. It was fun. But hiking is just walking around on a trail and hoping a mountain lion won't attack you.

The Berkeley Kite Festival. Cons: You have to drive to Berkeley; there are 4 parking spaces for a thousand people. Pros: it was beautiful and we got a little hike in (and ate happy hour sushi after).

"Just let the wind catch it," I told Zoe. I think we were sitting in a localized weather pattern, at the kite festival, where there was no wind.

August
Taken on our way to have falafel.

Before it's officially lights out at night, I encourage Zoe to draw on her own while I tidy up the house. She drew me flying a papa kite.

There is a puddle that we pass everyday that seems to regenerate itself overnight. "It looks like a mirror!"

"I want to have a coffee party in a tent." So did I, Zoe. So did I.

We stopped to look at a snail near her preschool. While that may seem boring to you people with full, rich lives, I like to think I live in a world where I'm blessed with the time to spend a lot of moments with Zoe.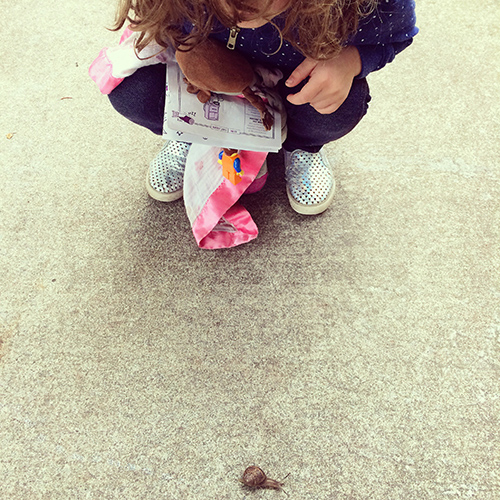 Her school was closed for some reason, in the middle of August, so I brought Zoe to work with me.

I talked to somebody for ten minutes, and when I came back, a bunch of my coworkers had built a hopscotch board (court?). These are people with things to do! but they were very sweet to Zoe.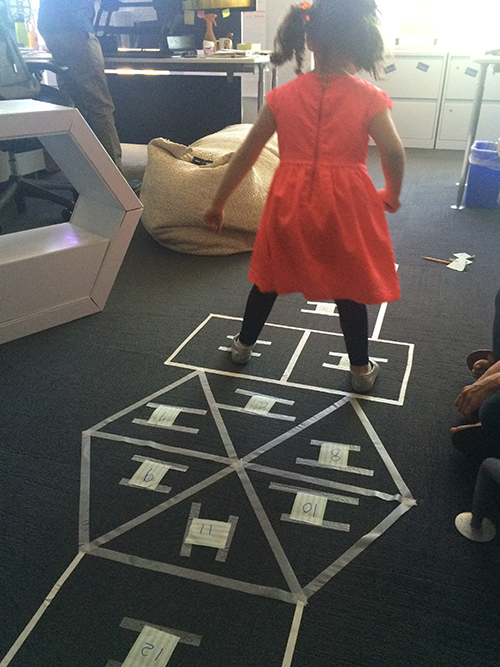 Our sticks, rocks, acorns, shells, flowers collections threatened to get out of control, so we started to organize.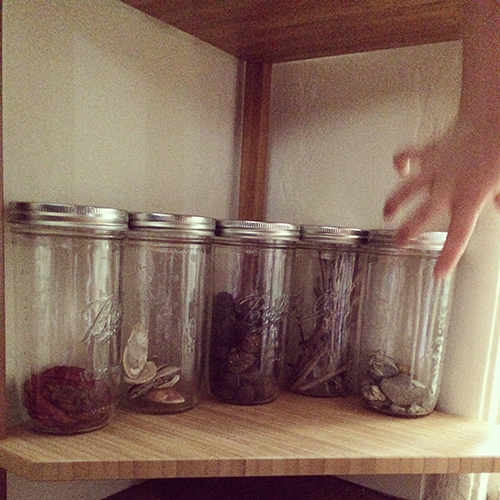 I remember this as the day we went to the beach and it was hot.

We wanted tropical drinks after, but this bar didn't "have a blender" but it had great light.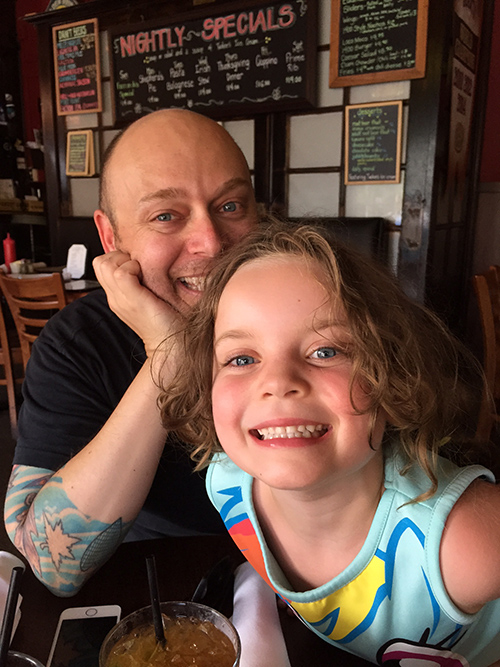 Zoe's final day at preschool was upon us, and she wanted to make cookies for everybody.

First day & last day. Nearly two years apart.

I had emotionally prepared myself for months for her last day. Sometimes I think Zoe is the most well-adjusted person alive. She's been so great through everything, and manages to have an upbeat attitude about everything.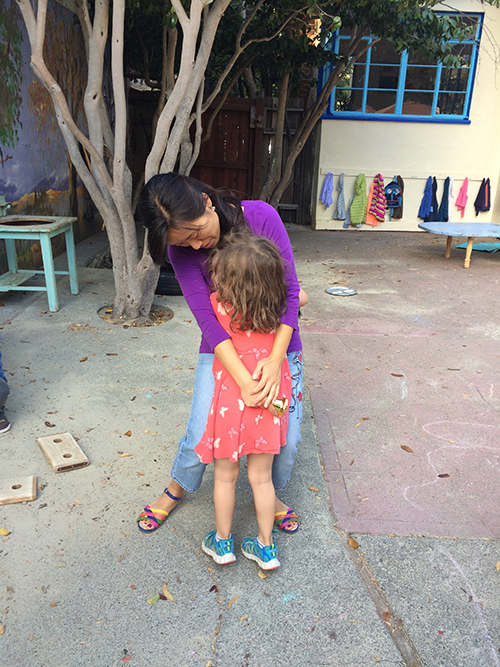 Zoe was off to Arizona, so I had some night coffee. I think I spent my time purposefully: watching all of Entourage (delicious fantasy) and Twin Peaks (great if you fast forward through 80% of it).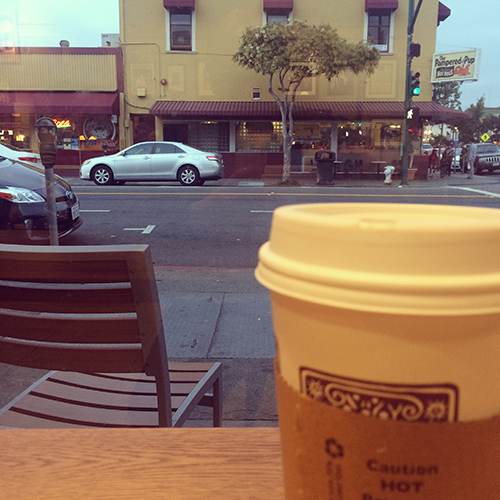 Zoe returned and had a big girl bed waiting for her.

I went into "last day of summer" mode, and took her to Fairyland (it seemed like summer went on for two months after this, but kindergarten did start a few days later).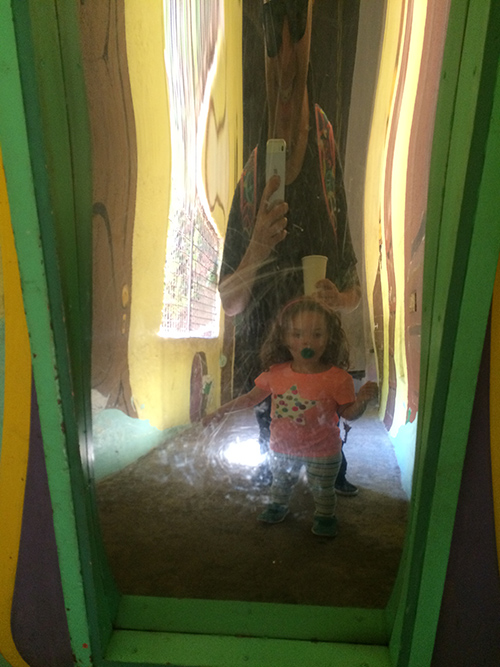 She painted a "fairy box" to keep all her hair ties together. (It would later break as it came out of the kiln.)

First day of school.

First day of school, proper. Zoe was excited.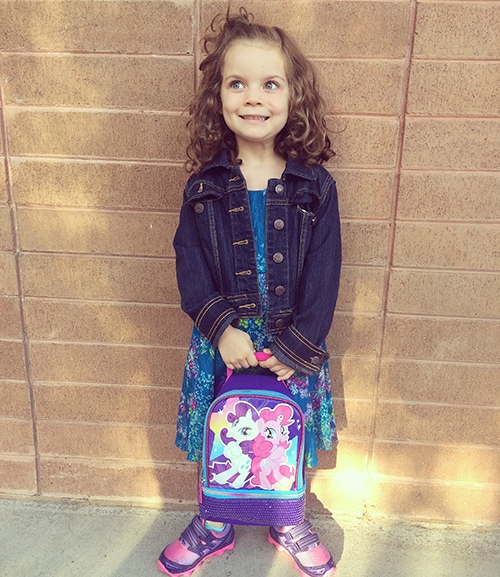 September
Zoe's self portrait. "That's my ponytail."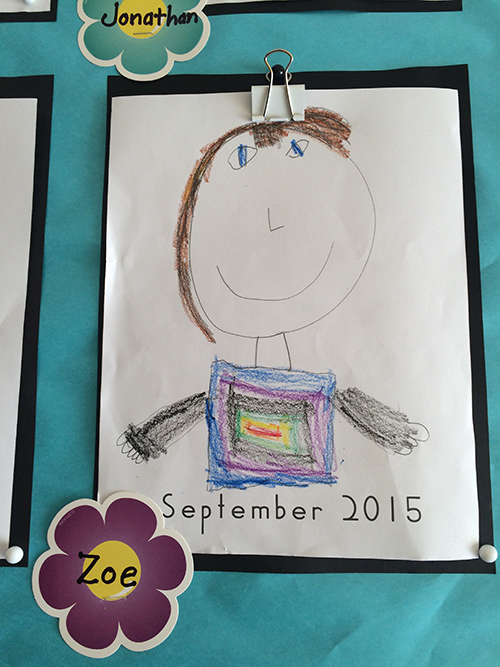 Chopstick skills: not bad.

Me: Vande gurunam charanaravinde
Zoe: Papa, you're so silly.

"Take a picture of our garden now and when it grows."

I immediately regretted not buying these little planters from States Coffee.

Sometimes I worry that Zoe is such a good, well-behaved kid that she'll be some sort of hellion teenager/adult (this is called pandering for grandparent's comments).

Waiting for the bus.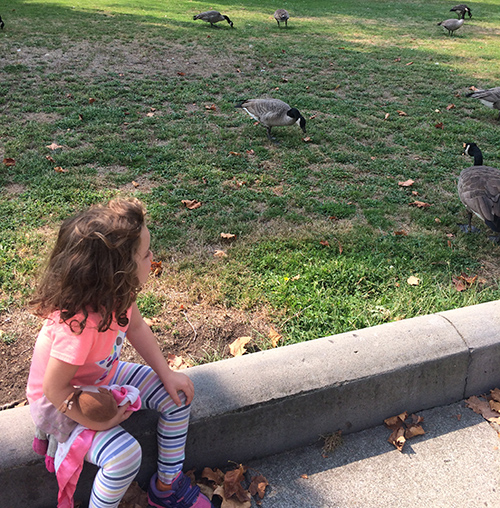 Painting the tea set.

The aftercare people were astounded that Zoe had mastered Mancala, so it was a must-have purchase for home (I also bought this but nobody needs to see photos of me using that).

I always think "this is the last day of summer" and then it's 96 degrees in September.

Zoe was bemoaning how we didn't do taco night anymore. (She wanted Japanese food the week prior.)

Picture day is my favorite school holiday.

"I'm doing yoga on a slide!"

We were super excited about the Super Blood Moon. We drove around the island to get a good view, and it was really remarkable. Here Zoe is excited that there was a diamond shape created by overlapping shadows on the ground.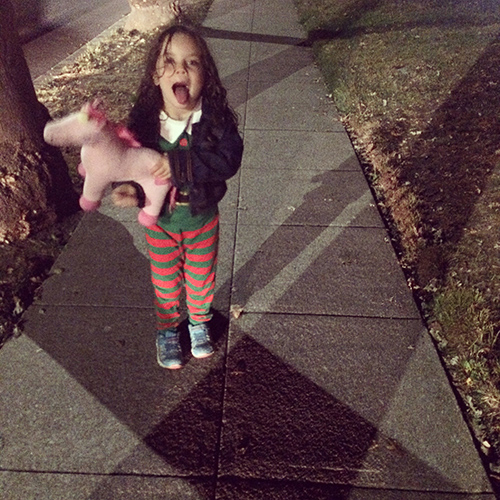 I always forget to check when the workshop is to help kids get off their training wheels.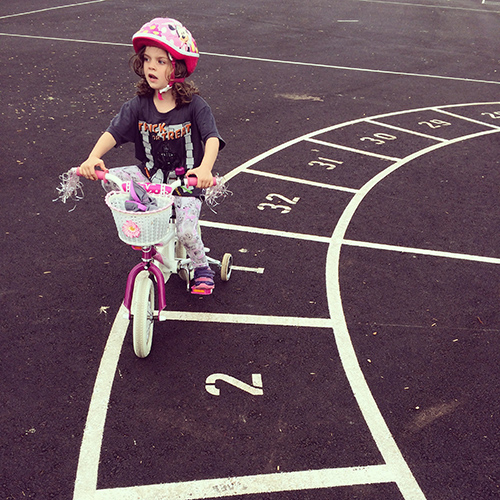 We made s'mores and had them on the back porch because at this time of night during the final days of September it looked like everything was pink-tinged and the air smelled wet and it was definitely the happiest the most peaceful I have felt in over a year. Maybe because fall is officially here, or maybe the effort I've put into myself is starting to pay off, and maybe the need for order and control can threaten to ruin your sanity and you just have to take the plunge into the unknown where you just let go of most everything. I suspect this is what it feels like when you finally turn a corner and are happy about where you're at, however transitional, and can start to feel unburdened and become hopeful about yourself and your future.