I'm a big fan of most things Bodum. They've made our French presses exclusively for over a decade, and their other coffee-producing devices never fail to excite (here, here and very much here).
Recently their double-walled drinking vessels became my preferred glass for coffee and booze. And since I am generous in spirit, I had to shower them upon my friend Lucie (in celebration of our shared birthday). We remarked at the hand-blown artistry and how a picture of a proud and intense artisan was printed on the box: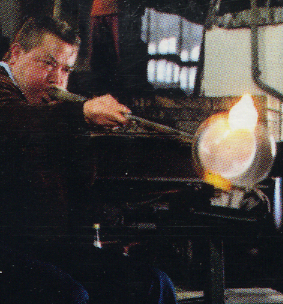 But then Lucie discovered what my eyes had not seen: on each glass was a sticker. The sticker was stunning in its simplicity and in its message: it was a line drawing of the now familiar hot sand artisan!