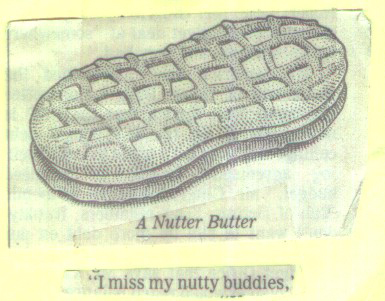 The signature illustrations on the front page of The Wall Street Journal are easily my favorite item about the paper.
Back in 1996, they ran a story (slow news day) about how budget restrictions were affecting blood drives, and that Nutter Butters® would no longer be offered. The illustration appeared with the caption above.
It was all captured for the future—FOR THIS VERY MOMENT—by my dad, who was genius enough to cut and tape the perfect clipping on an index card. He also sent me sour gum today that had been eluding me in the SF Bay area. This entry is for you old man: well played.